Extruded profiles
Extruded profiles are obtained by passing a rubber mixture in an extruder, the head of which supports a die that gives the profile of the part. We have Ø 40, 90, 120 mm extruders available for this purpose.
The die is created for a specific mixture and cannot be used for other mixtures due to the specific swelling of each family (it should be noted that the dimensional difference is sometimes acceptable).
In addition, certain complex profiles require the creation of the die and the definition of the template in order to avoid sagging.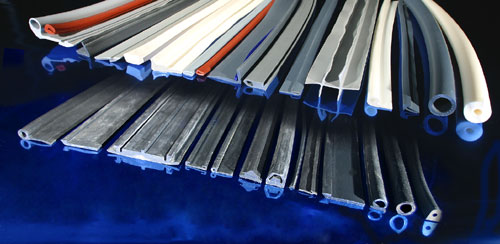 Materials
All families of elastomer may be extruded.
Presentation
The sections are delivered in reels for cords and in straight lengths of 2.40 m for lipped sections and musical notes.
Most sections may be made adhesive on one face (silicone or acrylic adhesive).