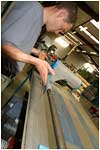 In order to meet the various demands made of them, SEE and LCC have their own plastic injection workshops.

SEE and LCC design and produce:
Thermoplastic seals, and
Adherisation of plastic onto all kinds of metals or other materials.
SEE and LCC study and produce the design for the moulds necessary for manufacturing these seals.